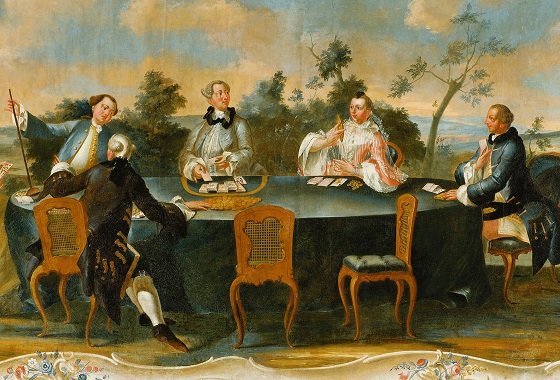 baccarat's high class origins

Winning at the Baccarat Tables: Tales of a Game on the Its Way Up
Baccarat is widely perceived as a high-rollers game. To win, you need a decent bankroll; it's the casino game of billionaires. Given these vast sums, you won't be surprised to learn that there have been some BIG jackpots…and they're only getting bigger. In fact, in 2015, we witnessed the largest prize tournament so far (more on that below).
Today, we're going to meet some of the biggest baccarat winners to date. These jackpots aren't as special as the poker jackpots, but they're fast approaching those humungous jackpots. As the game becomes ever more popular, you can expect them to get ever bigger.
Now, you might be wondering why baccarat has less exposure than poker has; it doesn't have that flashy quality that attracts so many people to the poker tables. I think there are two main reasons: the first reason for its comparative lack of popularity is that it hasn't been glamorised to the same degree that poker has been; you don't find many baccarat movies – you probably can't even name one? (I can't)
Secondly, poker, in its modern form is older and more established. It became popular in the late 1820s; it's almost 200 years old! While baccarat is technically older (invented in 1764), the version most of us play today – American Baccarat – only arrived in our casinos in the 1960s.
This brings us nicely to our first big win – this time the punters vs the house. In the early 1960s, a man called Tommy Renzoni (very famous in the world of baccarat) brought baccarat to the casinos of Las Vegas after discovering it in Cuba.
Baccarat Winners #1 Breaking the Bank
The first big win happened across the house, when the Sands Hotel Casino, Las Vegas, lost $250,000 in a single night from various baccarat games. That old adage, "the house always wins", definitely didn't stand true when the newly discovered (in America) game of baccarat first arrived. Tommy was there that night, and I'm sure he hung his head in shame – or at least had a mild panic attack.
Instead of throwing the game out entirely, or sacking Renzoni, the casinos decided to change the rules and bring the odds back in their favour. When you play baccarat today, you generally play American Baccarat…and, yes, "the house always wins".
You might be sat there thinking, "Mmm, OK, but $250K is nothing to a Las Vegas Casino", and, yes, that's somewhat true in 2016. They don't want to lose that much, but it's not too bad if they do. But this loss was back in the early '60s; with inflation, it's actually around $2m, which no casino can handle that well, even the larger Las Vegas casinos.
Baccarat Winners #2 The Billionaire Baccarat Bigshot
The 1960s win was shared amongst multiple players, so maybe it doesn't count as a big win? Never mind, now we're going to introduce you to someone who did win big, billionaire Akio Kashiwagi. He lost a lot of money on the baccarat tables, and as a "whale"; he was someone who many baccarat players wanted at their table. He regularly gambled $100K and $200K hands, over the course of several hours.
While he lost big multiple times, he won big, too. His largest known win was $6,000,000 – and this was back in the '90s, so in today's money, would be even greater. Known as "The Warrior", he's probably the most famous baccarat player: he even inspired the character K.K. Ichikawa from the film Casino.
Baccarat Winners #3  The Biggest Baccarat Win Ever – $55m 
Another big win didn't happen until the late 1990s. This is a somewhat confusing story, because it's shrouded in mystery. What we do know is this: over the course of several months, Crown Casino, Melbourne, lost $55,000,000 in baccarat games.
The games were played by several high rolling, but elusive (well, the casino hasn't mentioned any names, at any rate) Asian gamblers. The biggest singly win was $12m – we just can't tell you much about the player involved! Asian, rich, high roller, like baccarat – that's all we have! This winning streak almost crushed the Crown Casino, and it needed special measures to bail it out. (Source: The Nation, 22/12/97) Maybe someone forgot to remind the House that they were supposed to be playing American Baccarat!
Baccarat Winners #4 Big Wins at the World Series of Baccarat
$12m seems to be a weirdly relevant number for baccarat winners. The largest win to date happened in Macao in 2015. It broke records for the biggest ever win at baccarat, and just pipped the previous Melbourne win to the post, when Lin Haisan scooped the HKD100 million ($12.9m) jackpot in the World Series Baccarat Championship (WSBC), Macao.
The World Series Baccarat Championship could well be a sign that things are turning around for the game of baccarat. It might soon become as glamorised as poker. Indeed, the WCBC 2015 also broke records for the biggest tournament pot in baccarat, at $15m, so things are certainly on the up – at least in the Eastern hemisphere.
Now is definitely the time to get to grips with the game, and hopefully beat all those newbies that are predicted to flock to the tables as the WCBC becomes ever bigger.