The ULTIMATE PLAYER!
So OK I've paid a lot of attention to you party players. You wanted One simple way to play with no counts. Fine, MvD is the best there is. You guys, form the largest group of players, by far, so I must pay you my respects and devote my time to you.
But now lets talk about the other group, the ultimate player, perhaps somewhat insane, like me. He wants to know everything there is to know about the game, every system, every progression, how to Exploit, and every trick of the trade, how to make really big money – perhaps millions!
The O/R and the PvB counts are important but what makes these guys ultimate is the SAP Count. The SAP Count which you can learn in 5 minutes is your ultimate weapon. It tells you which system to play and how to bet it. It is also an early warning system that keeps you out of trouble.
SAP is the focal point of the entire Final Word Manual because it is the entire basis of Advanced System Selection and Advanced betting.
The Advanced System Selection Table is the most important page in your manual and your entire manual is devoted to it.
FROM THE FINAL WORD MANUAL!
Therefore I've taken the liberty to copy that page right here on the public forum for the whole world to see. The Ultimate Player knows everything on this page. He learned it from his Final Word Manual. He can play any shoe ever dealt but you know what – He doesn't. BECAUSE he knows to select only the very best shoes. Why? Because he CAN! And Because he's a Pro. The SAP Count and Table Selection are his big guns. It is as close to cheating as you can legally get. He is NOT doing what the Casino wants him to do. He's doing what he knows is the best thing to do. He's not a lemming. He's a Pro. Feast you eyes on this, the MOST important page of The Final Word Manual:
"ADVANCED SYSTEM SELECTION
Once you have learned Tote Board Reading and how to enter your SAP and O/R counts on your score card, and how to consider the PvB count right there on the tote board, you are ready to perform Table Selection and System Selection – your most important Baccarat skills.
I have designed the ideal system for every combination of SAP disparity imaginable:
High 1's = S40
High 1's and 2s = S40
High 1s and 2s and 3s = S40M3
High 2s = OTB4L
High 2s and 3s = OTB4L
High 2s and 3s and single 1's = OTB4L
High 2s and 3s with single and double 1's = OTB4LM3
High 3s = OTB4L+
VERY low 2s = TB4L
High 4+ with low 2s = TB4L
High 4+ and 1's with low 2's = TB4L
High 4+ with high 1s and 3s and low 2s = TB4L
Low 1's = Repeats
High 4+ = Repeats
High 4+ with high 2s = Repeats
High 4+ with high 3s = Repeats
High 4+ with high 2s and 3s = Repeats
Very High P or Very High B = F3 (SS) (Strong Side)
We like to see at least a 2 to 1 PvB ratio for F3
But right now we are seeing LOTS of F3 shoes EVERYWHERE
and F3 shoes are usually very high scoring.
Equal PvB = Net Bet
High SAP Disparity = SAP
Low SAP Disparity = RSAP
?
That covers the WHOLE water front. The advantage of the SAP\RSAP approach is you only need to learn SAP and O/R Counting and 2 systems to play every conceivable shoe.
The advantage of MvD technique is you only need ONE simple system with no counts."
?
Now, put your mind on blank screen for a moment and let me have your undivided attention.
Imagine that you have learned EVERYTHING on that ONE page of your Final Word Manual.You've also learned all of the progressions and when to deploy which progression. To be a Professional you must first Think and Act like a Pro – then, play like a Pro with sound cash Management.
You've just walked into a major casino with a bankroll of $3000. You aren't there for fun. You have one purpose in mind and you are totally devoted to that one purpose – to walk out of that casino with more money than you walked in with. It's not your money until you leave the casino!
You totally ignore the other players. You are in your own world. Your total focus is the Tote Boards. There are 8 tables going. You are talking to yourself. I want the MOST biased table in this casino. The first table has a high minus O/R count. Hmm, I might come back to this one. But I want to see ALL of the tote boards. The 2nd, 3rd and 4th tables – nothing remarkable – nothing really stands out. The 5th table has low 2s. Hmm, interesting. The 6th table has very high 3s and a -6 O/R count at play 24 – VERY interesting. 7 went from chop to streak – definitely avoid that one. Nothing interesting at 8 so back to TABLE 6! It is now at play 32. The O\R count has gone even more negative. There have been 4 3s vs a norm of 2. That is extreme bias. You take the empty 1st seat right in front of the toteboard. You produce your player card immediately because it is the only thing in your left pocket. Play 36 just completed producing the 5th 3. Wow! You produce $2000 which was already separated and the only thing in your right pocket. "All black please!" You already know you are going to play OTB4L+ which is designed specifically for high 3s. And you already know you are going to bet a 345 prog because the table is so extremely biased and because the 345 is the safest of all the exploit progressions. Play 39 just completed the 6th 3. You put 3 blacks on Player and double check that your bet is correct.
NOW, you're playing the game!
Below is the rest of your shoe played out. It is a shoe recently turned in by one of our private members. This is what can happen to YOU!
Ellis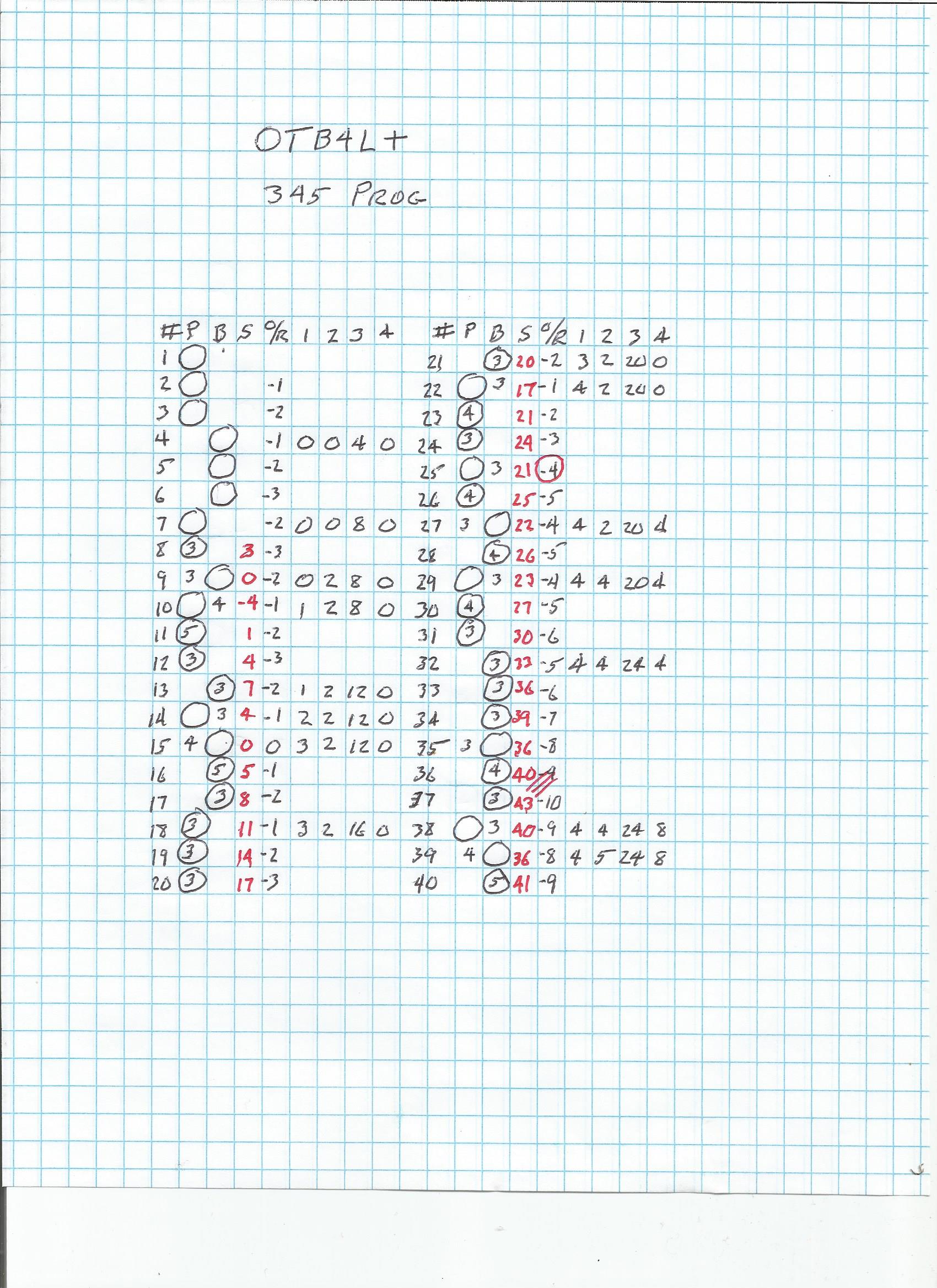 11 thoughts on "
The ULTIMATE PLAYER!

"